Jenny Beyer
Bio

Choreographies
On the 15th of August 2010 I cut myself deeply into the fatty skin under my right thumb with a bread slicer. It was bleeding very strongly, I felt sick, lost control over my legs and fainted. At the ambulance the wound was sutured with seven stitches. This incident showed me in a frightening and fascinating way how alien the inner of my body is to me; the gaze into the gash under the surface of my skin was scary and repellent. The external integrity of my hand had been destroyed; my hand became a foreign body, bound to my perception and me only by the stabbing pain. This experience was one of the motivations for this project in which I want to explore the body and its appearence and potential.




Press
Contact
Sweet and Tender Collaborations
Concept, Choreography, Dance: Jenny Beyer, Chris Leuenberger | Make-up Artist: Ioana Rölley | Costume: Adelaida Cue Bär | Stage: Angela Anzi | Sound: Jetzmann | Light: Sofie Thyssen | Dramaturgical Advice: Igor Dobricic, Anne Kersting | Coach: Frederic Giess | Assistance: Rosa Wernecke | Production: Sabine Jud


"Haut" is a production of Jenny Beyer, Chris Leuenberger Produktionen and Kampnagel. Funded by the Behörde für Kultur und Medien Hamburg, Fonds Darstellende Künste, Stadt Bern and SWISSLOS/Kultur Kanton Bern.


Premiered on 3 May 2012, Kampnagel Hamburg, further performances May 4th and 5th, May 9th -11th Kampnagel and June 29th and 30th, Dampfzentrale Bern


Since their early collaborations the choreographers Jenny Beyer and Chris Leuenberger have examined the relationship of image and movement. With HAUT they place themselves in the fine arts tradition where the skin has always been a subject of visual reflection. While folding their insides and outsides, the dancers encounter the foreignness of their own bodies. HAUT is a farewell to all things slick, and upon closer inspections it's the wrinkles that become more and more visible.



Jenny Beyer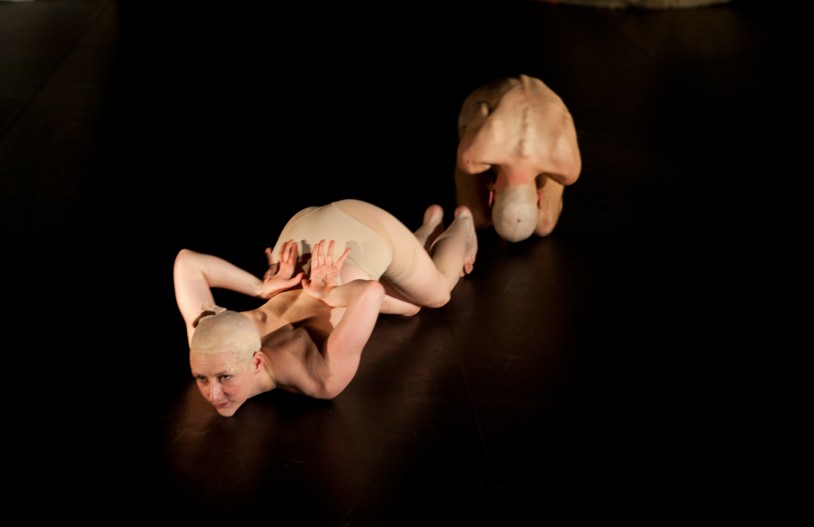 photo by Simone Scardovelli
HAUT
u
radio critic, May 4th 2012, NDR 90,3
Teaching
Video
OPEN STUDIOS
Impressum/Datenschutzerklärung